Save the date winter sailing fans! The GJW Direct Bloody Mary will be back for another magical day at Queen Mary Sailing Club on Saturday 12th January, 2019.
This time it's the 5th leg of the Selden SailJuice Winter Series and bouncing back, like the ultimate come-back kid, it will again hope to attract over 300 boats to make a Bloody Mary at the west London waters.


Action from the 2016 Bloody Mary – photo © Alex & David Irwin / www.sportography.tv
We are delighted to announce our headline sponsor for 2019 – GJW Direct, The UK's Largest Direct Boat Insurer.
"The Bloody Mary signals the start of the sailing year and always attracts a massive entry of dinghy sailors from the length and breadth of the country. We're delighted to be supporting this must-do event and will be on the water bringing you up-to-the-minute photos and updates through our social media channels.", said Lev Osman, CEO of GJW Direct.
The Bloody Mary is open to all dinghy classes with a PY number equal to or lower than the International Topper. It takes the form of a 150-minute Pursuit Race with the slowest boat starting first at midday and the faster boats starting progressively later, depending on a handicap rating which is set by the Race Committee.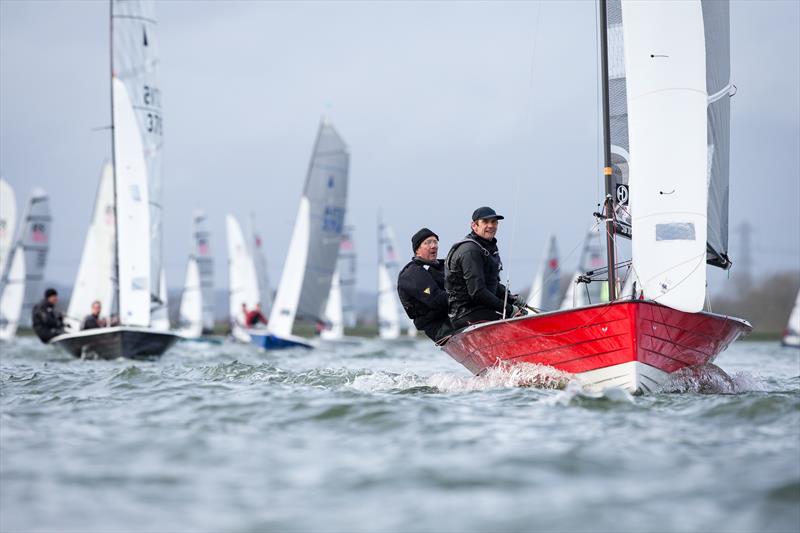 Action from the 2016 Bloody Mary – photo © Alex & David Irwin / www.sportography.tv
Online entry will close at midnight Wednesday 9th January and there is an entry limit again this year, so enter early to avoid disappointment! Entries will be accepted on the day until the entry limit is reached. The Entry desk will open at 8:00am and close at 12:00pm, please arrive early and head to the clubhouse to complete the forms.
A change made for the 2019 edition is that it is now a non-foiling event. The Bloody Mary is simply too big to get it right for the majority of non-foiling entrants together with our flying friends. This decision has been made after consultation with the classes affected and with the Selden SailJuice Winter Series organisers – and we have new plans for foilers outlined below.
To get a flavour of the event watch the Bloody Mary 2016 winners Tom Gillard and Richard Anderton. These Fireball sailing champions giving a great insight in to what it takes to win this famous dinghy handicap race.
New for foilers in 2019
QMSC has very successfully introduced foiling windsurfing earlier this year, alongside our growing fleet of Waspzs and Moths. QMSC is opening discussions on a new event as part of the Great British Sailing Challenge to meet the rapidly growing number of foilers in these and other classes. Updates will follow our next foiling event, the International Moth Open Meeting on 9-10th March 2019.
We look forward to seeing you this coming year at Queen Mary Sailing Club.