Simon Winkley was the Sailing Manager at QMSC for 10 years from 2002 prior to starting out as a freelancer. In his time at QM he worked with and developed a whole generation of windsurfers and instructors.
Simon is an advanced windsurfing coach, a windfoiling instructor and a Team Rider for Starboard and Severne. He specialises in the delivery of RYA Windsurf Instructor courses and in the coaching of intermediate-to-early-advanced windsurfing. He runs windsurfing holiday clinics in South Africa, Canary Islands, Red Sea, Greece, Weymouth and at QM and writes coaching articles for Windsurfing UK magazine. Simon has a passion for being out on the water and for helping others to make the most of their time afloat.
QM maintain a strong working relationship with Simon and recommend his UK and overseas windsurfing clinics for QM Members who can enjoy a high-quality and social windsurfing experience in a wonderful location before returning to QM refreshed, up-skilled and ready to continue!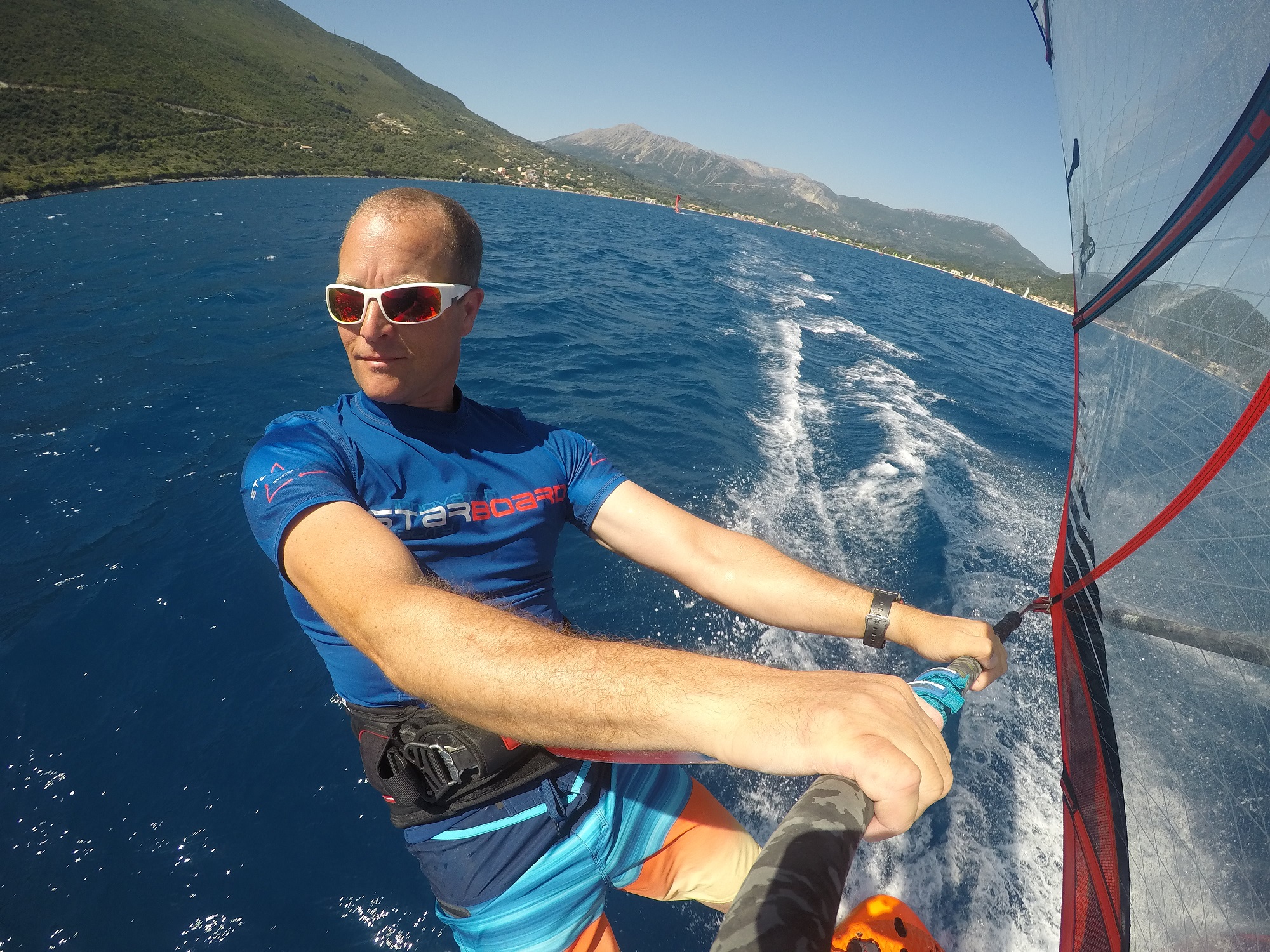 FORTHCOMING OVERSEAS CLINICS
For more information on Simon's overseas clinics
Bookings: Sportif Travel 01273 844919 https://www.sportif.travel/instruction/Simon+Winkley+Windsurf+Clinics
Langebaan, South Africa 21-29 Jan 2019
Costa Teguise, Lazarote 18-25 March 2019
Safaga, Red Sea 16-23 May 2019
Langebaan, South Africa 25 Nov-3 Dec 2019
FORTHCOMING UK CLINICS
Weymouth, Official Test Centre (OTC) – bookings: info@simonwinkley.com
8/9 December 2018
30/31 March 2019
27/28 April 2019
8/9 June 2019
27/28 July 2019
QUEEN MARY SAILING CLUB
28 November 2018: FREE evening talk  1830 -2130. Bar food, such as burgers available along with the usual range of drinks.  Simon's talk will start at 1900.  This will cover coaching, tuning, tips, anecdotes, There will also be a Q+A session, plus information about his programme of overseas clinics
We are delighted that Simon has also offered to run 2 half-day coaching sessions, which are open to members and non-members alike
Saturday 1 December: FREE half-day coaching sessions

Session 1 0900-1145 (6 places)
Session 2 1300-1545 (6 places)

Choose either the morning or afternoon slot. On each session Simon will be coaching a range of intermediate to early-advanced skills to suit the group.  In order to secure your place, please phone the QM Office on 01784 248881 – don't delay, we're sure this will prove popular!

Kit Options:
You can use your own kit
QM Select Members no charge for kit use
QM Standard Members / non-members kit hire £45.00 (make sure you let the office know when booking your place)

WHAT'S COVERED IN A SIMON WINKLEY CLINIC?
For UK and overseas clinics there will be a mixed group of intermediate to early-advanced windsurfers looking to up their game whilst having a great time on and off the water. So … no beginners or aerial freestylers. That means a focus on real-world core skills to include any of the following: harness, footstraps, planing and speed control, beach starts and water starts, non-planing freestyle, faster tacks, heli-tacks, non-planing gybes and carve gybes plus variants, chop hops and jumps, carving tricks, body drags etc.
Kit set up and tuning are always included to help you make the most of your time afloat. Shore-based coaching prepares for the action afloat where Simon will sail with you and the group, observing and making small tweaks to your technique. When not on the water he will be there for you on the beach to mentor and advise.
On overseas clinics (and where possible on UK clinics) Simon makes use of GoPro POV cameras with both Flymount mast/boom mounts and head mounts, a HD video camera and a DSLR camera. Content is used in debrief sessions ashore and to provide you with those all important memories of your time on the water. His coaching will arm you with all the right ingredients for further improvements long after the holiday or session is over. Most of all – your time on and off the water will be fun and the holiday/session a pleasurable one!
Simon's overseas clinics
You can find Simon's technique articles in WSUK from page 50 onwards